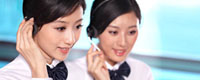 Name: Cindy
Mobile: 0086 136-0648-6413
E-mail: info@rughome.net; cindy.hua@rughome.net; cindy.hjl@gmail.com
Add: No.7 Yinchuan West Road, Qingdao, 266071, China
Skype: cindy.hjl




Your Oriental rug can last a life-time with some simple steps to maintain its beauty.
Read below to see if you are taking the right steps to care for your rug.


Simple Cleaning Simple steps can be taken to keep your rug dust-free and beautiful.
Vacuum regularly

Comb fringe with fringe rake or shake out by lifting corner of rug

Rotating your rug occassionally will allow for a more even wear pattern

Vacuum rugs that extend underneath furniture whenever possible to deter moth damage.
Keeping dust and dirt out of the pile of the rug will help maintain the integrity of the wool and prevent the rug from looking worn and dingy.

Professional cleaning is recommended every 3-5 years; more often if your rug is located in a high traffic area like the kitchen or bathroom. Take your rug to a professional Oriental rug cleaner to ensure proper methods are used. Avoid using in-home carpet cleaners or dry-cleaners as these services often use high-heat and/or chemicals that can damage your rug. NEVER put your handmade rug into the washing machine!

Stains Pets, food, paint, crayons...your rug is susceptible to all sorts of products that can cause permanent damage. Spills and stains can be scary! When a spill occurs, address it immediately. Try scooping it up with a spoon. Apply club soda then use a white cloth or napkin to blot up the spill, working from the outside to the center, until all the liquid is absorbed. If a stain remains, it most often can be treated with a simple, water-based solution, but it is best to consult an expert in Oriental rug care before attempting this.

Repairs Your Oriental rug is not a disposable product! When damage does occur, we offer repair services to get your rug looking like new again. Some of our common repair work includes:
Hand-tying of the fringe when it has unraveled

Reweaving or patching worn spots

Overcasting the edges

Color blending to hide worn pile

Replacing fringe or creating new fringe